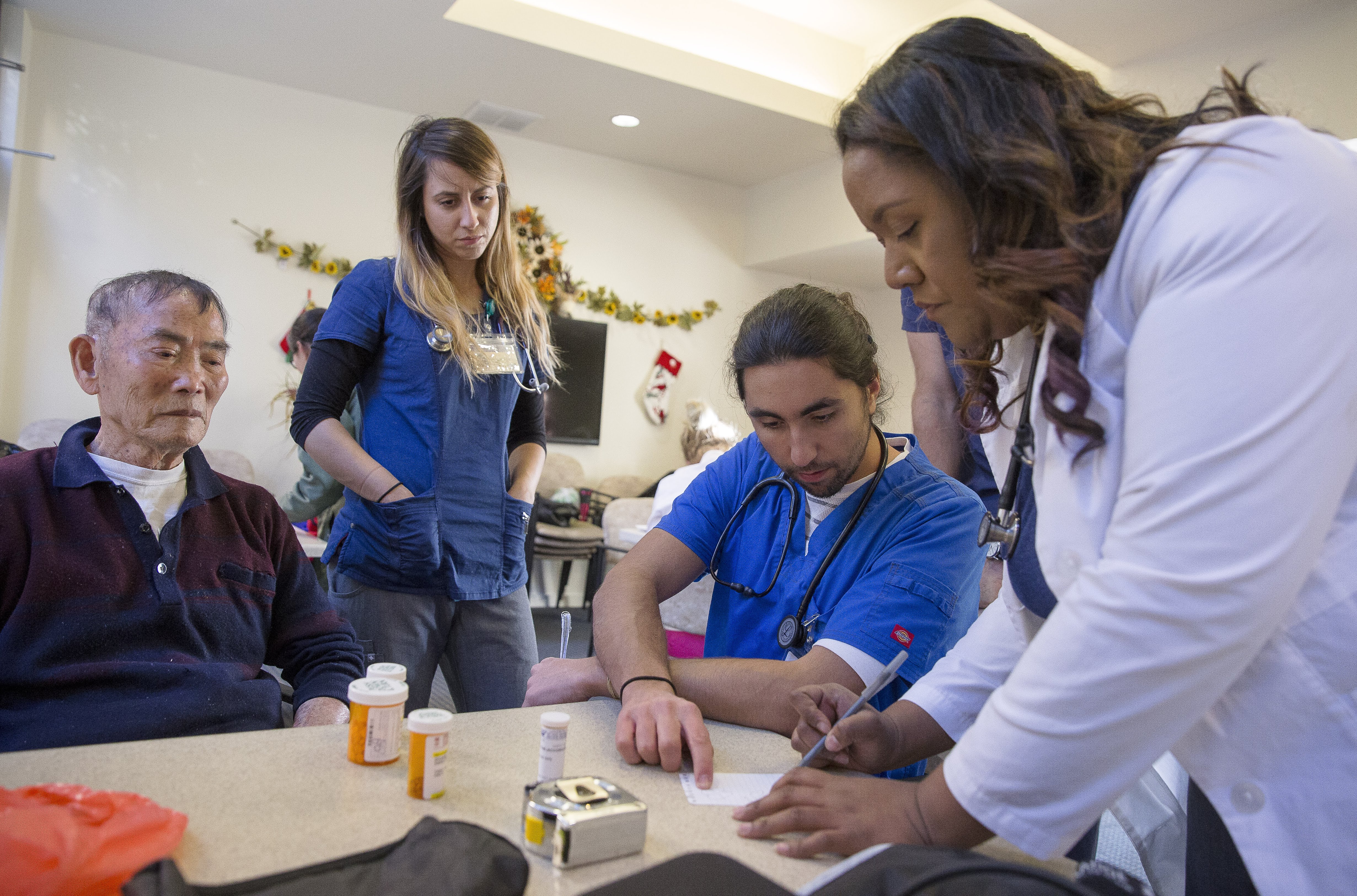 The Health Disparities Reduction Project (HDRP) is a non-profit entity under the San Francisco State Foundation with the mission of providing clinical preventative services to marginalized populations while shaping the ethical practices of future nurses as they experience working with at-risk and underserved populations. As health disparities grow, so does the need to train our healthcare workers in providing compassionate care for high risk, underserved populations. The goals of the HDRP as stated in our mission include:
Contributing to the health of our community. Working closely with other non-profit organizations, the HDRP provides:

Blood pressure screenings and counseling 
Blood glucose screenings and counseling 
Hearing and vision tests
Hepatitis B counseling
Vaccinations
Other clinical preventive services
We serve many populations, including senior citizens, minority communities and those experiencing homelessness.
Providing future SF State nurses with an educational and experiential foundation in clinical prevention and population health. The HDRP student volunteers participate in hands-on experiences that expose them to underserved populations, guiding them to develop the compassionate nursing skills needed to provide patient-centered care to all people.
If you would like your organization to partner with HDRP, please contact Larry Vitale at vitale@sfsu.edu.
Central to our mission of providing clinical preventive services is the need for supplies with which to carry out these activities. These range from needles used in flu vaccination clinics in homeless shelters to blood pressure cuffs, glucose monitors, thermometers, and more. Every dollar donated to the HDRP goes directly to the equipment needed to continue to provide these services. The HDRP is currently supported by generous donations from individuals and select organizations. Without these donations and grants we would be unable to carry out our mission and tackle the critical healthcare needs within our community.
Testimonials from students and community partners:
I treasure my volunteering experience because not only did I learn how to empower our community members to accomplish their health goals, but also I gained valuable experience working in a team and as a leader. My experience is a reminder for me as a nurse that while there are many things I cannot control, I can always find ways to improve someone's experience or connect them with the resources they need to thrive. It gave me a better understanding of diversity, vulnerable populations, and how we can apply compassionate nursing care in the face of uncertainty or injustice." — Jasmine C., SF State nursing student

"As public health volunteers, [the HDRP volunteers] have provided culturally and linguistically appropriate and understandable information to members of the public, putting participants at ease regarding complex health issues. They have been willing to travel around the Bay Area and have always been communicative and dependable. They are a fantastic resource." — Richard So, Executive Director of SF Hep B Free
Our Community Partners