The Entry Level Master of Science in Nursing at SF State is a six-semester program. This program prepares students who possess a non-nursing bachelor's degree for the national licensing exam (NCLEX-RN) to become a Registered Nurse.  Students are eligible for the NCLEX-RN upon completion of four semesters and the program culminates with an applied research course or a master's thesis. Graduates will earn a BSN and MSN degree. Additional information about the program, including student learning outcomes, can be obtained in the nursing section of the SF State bulletin.
Emphases/Specialty Areas
Clinical Nurse Specialist (CNS)
This emphasis offers students in both the Entry Level MSN and the regular MSN programs the opportunity to take courses for certification by the California State Board of Registered Nursing and/or the American Nurse Credentialing Center. The CNS is an advanced practice nurse holding a master's degree with an emphasis in a specific area of clinical nursing such as adult, women's health, and pediatrics. Students will need to select an emphasis at the time of application. The role of the CNS is defined by the needs of a select client population and clinical expertise of the nurse.
Nursing Administration
This emphasis enables students in both the Entry Level MSN and the regular MSN programs to combine the nursing perspective and principles of business to become effective and successful managers and administrators. Elective courses can be taken through the College of Business with the advice and approval of an academic advisor.
Public/Community Health
Students completing this emphasis are prepared to assume nursing roles in a variety of care settings including public health, home health, and schools. Upon passing the NCLEX-RN students become eligible for Public Health Nurse certification in California. 
One Year FNP Certificate Option for Entry Level MSN Graduates*
The One Year FNP Certificate option is offered jointly by the School of Nursing and College of Extended Learning.  It comprises five additional courses which prepare students for both California and national board certification (American Academy of Nurse Practitioners & American Nurses Credentialing Center).  Nurse Practitioners are licensed to practice autonomously and in collaboration with other health care professionals to assess, diagnose, treat, and manage the health needs of patients of all ages. 
*This option is available by application after one year RN experience and within five years of graduation from our Entry Level MSN programs at a rate of $675 per unit. The One Year FNP Options is not available to Nursing Administration students.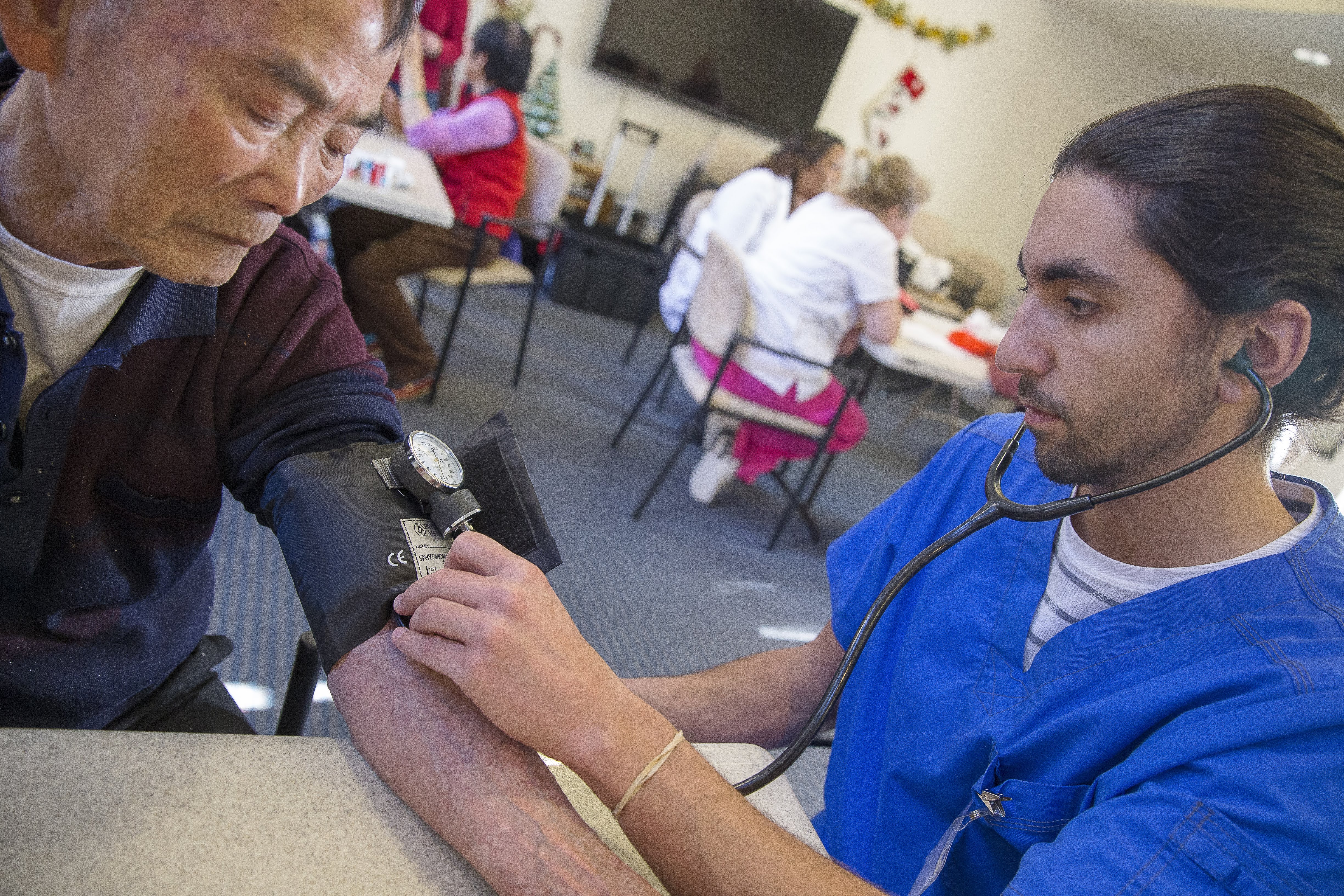 Eligibility Requirements and Prerequisite Information
Residency
Must be a California resident or be eligible for in-state tuition
Bachelor's Degree
GPA 3.0 or above in the last 60 semester units earned
Provide evidence of health related work or volunteer experience
Personal statement
Three letters of recommendation
Prerequisite Coursework
Must complete all prerequisite courses below from an accredited College or University by the time of NursingCAS application submission. Four science courses must be taken for a letter grade of C or better within the last seven years.
Due to COVID-19 pandemic, online courses, including lab, taken during shelter-in-place are acceptable. These courses must be C or better.
Prerequisite Coursework

| Course Title | Description | SF State Course Number |
| --- | --- | --- |
| Human Anatomy with Lab  | Human Anatomy w/Lab; or Part 1 of a combined Anatomy & Physiology series. |  BIOL 220 (4 semester units) |
| Human Physiology with Lab  | Human Physiology w/Lab; or Part 2 of a combined Anatomy & Physiology course series. |  BIOL 212/ 213 (4 semester units)  |
| Survey of Chemistry with Lab  | General, inorganic, organic, or integrated (any combination of general, organic, or biochemistry) chemistry courses are acceptable |  CHEM 101/ 102 (4 semester units)  |
| General Microbiology with Lab  | A Microbiology and corresponding laboratory course |  BIOL 210/ 211 (4 semester units)  |
| Statistics | Statistics. Business Stats or Psych Stats are also acceptable. | Math 124 (3 semester units) |
Please consult Assist to determine comparable or articulated coursework taken at California community colleges or CSUs. If the course in question was taken at institutions other than California community colleges, please visit Articulation page.
Courses required for RN licensure in California
While not required for admission, prospective students should be aware that the California Board of Registered Nursing (BRN) requires students to have completed a minimum of 16 semester units comprising natural sciences, behavioral, and social sciences. To complement the anatomy, physiology, and microbiology prerequisites, it is highly recommended that students complete a General Psychology or Developmental Psychology course prior to taking NURS 328 Psychiatric Mental Health Nursing Theory and Practicum and any additional behavioral or social science course, as needed to fulfill the BRN's requirement.
Prospective students must submit the university application via Cal State Apply and School of Nursing supplemental application via NursingCas by the following deadlines:
Cal State Apply Application Period
October 1 - January 15
We strongly recommend that prospective students complete the Cal State Apply application as early as possible during the application period to allow time for an SF State ID number to be issued and all required university documentation, including a set of official transcripts, residency status information, etc., to be submitted, received and processed.
NursingCas Application Period
October 15 - January 15, 8:59 p.m. Pacific Time
We recommend beginning the process early in the application period as late applications will not be accepted. Further supplemental application guidelines and instructions are available during the application period on the Program Materials section of NursingCAS.
Step One: Submit Application to San Francisco State University via Cal State Apply
The essay and references can be omitted as they must be submitted via the School of Nursing supplemental application.
It is recommended that applicants complete the Cal State Apply application early in the application period.  The Division of Graduate Studies will assign applicants an SF State ID# and it must subsequently be included on the School of Nursing supplemental application.
For detailed information on admission requirements to San Francisco State University, please go to Division of Graduate Studies.
Step Two: Submit School of Nursing Supplemental Application via NursingCAS
A personal statement, 250-500 words and must address the following:

Describe the Advanced Practice Registered Nurse Program of study you are interested in as it relates to your career goals
Explain why you are seeking a degree from SF State
How do you anticipate this program will assist your goals?
What contributions do you foresee adding to the field of nursing?
What special attributes will you bring to the nursing profession?

A set of official transcripts from all institutions of higher education attended. If courses are taken during fall, transcript should be requested in January.
Three references (letter and reference form); At least one of these must address health-related work or volunteer experience. References must submit the reference letters themselves electronically. For more information on this process, please go here.
For NursingCAS supplemental application guidance and instructions, please visit NursingCAS Applicant Help Center.
For frequently asked questions about application cycle, including the Re-applicant feature, please visit NursingCAS Application FAQs page.